Chronological Summary of a Tragic Life
1881August, 19th. George Enescu is born in Liveni-Vîrnav, a little village in North-eastern Romania as last and only surviving child of an estate bailiff and a teacher. The family moves to Cracalia in 1884.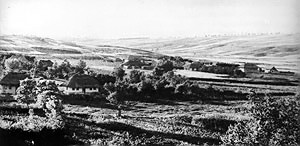 Landscape of the place where Enescu was born


1885First violin instructions from a Roma musician, followed by regular violin classes in Botosani.


1888Enescu starts his studies at the Vienna Music Conservatory. In 1889 he moves in with his violin teacher, Josef Hellmesberger jr. (concert-master of the Vienna Philharmonics and one of the most famous virtuosos of his time). He studies with Hellmesberger (violin), Robert Fuchs (harmony) and Johann Nepomuk Fuchs (counterpoint).


1893Prized graduation from the Vienna Conservatory. Public performances of Sarasate's Faust Fantasia at the Bösendorfer Hall and Mendelssohn's Violin Concerto at the Musikvereinssaal.


1895George Enescu continues his studies at the Conservatoire de Paris, where he is first attending the composition classes of Jules Massenet, then the one of Gabriel Fauré, while learning counterpoint with André Gédalge. His fellow students with Fauré are, among others, Maurice Ravel and Charles Koechlin.


1898February, 6th. Enescu's op. 1, the Poème Roumain (Romanian Poem), is being performed for the first time in Paris at the Concerts Colonne, becoming a huge success. March, 1st. George Enescu has his first public appearance as a conductor, performing his own Poème Roumain at the Romanian Athenaeum in Bucharest. The year also marks the beginning of his outstanding career as violinist, that will lead him through Europe and America.


1899July, 24th. Another first prize-graduation from the violin class of the Conservatoire de Paris. Enescu is awarded a Bernardel violin. December, 30th. Enescu comes to meet Joseph Joachim from the famous Hochschule der Künste in Berlin.



Enescu's Bernardel violin


1904George Enescu is becoming a member of the examining jury at the Conservatoire de Paris and composes several pieces meant to be played at the examining competition (e.g. Cantabile et presto, Concert Piece).


1914December, 14th. Enescu conducts the first complete performance of Beethoven's Symphony no. 9 to be heard in Romania at the Athenaeum in Bucharest. He is by now one of Europe's most famous musicians.


1915Enescu initiates the founding of the Romanian Opera in Bucharest and starts collecting money in order to provide the Athenaeum with an organ, contributing himself in both cases with fairly large sums. He establishes a series of concerts meant to familiarise the Romanian public with the international repertoire.


1916Enescu becomes honorary member of the Romanian Academy (in 1933 he will obtain full active membership). As the Romanian Royal Court and the government are forced into exile in Iasi (in North-eastern Romania) by the events of WW I first sketches of Oedipe are sent along with the Romanian national treasury to Russia for safety reasons, where they will get lost for almost a decade.


1917Enescu is founding a philharmonic orchestra in Iasi employing both local musicians and refugees. The orchestra's concerts and Enescu's solo performances in concert halls and in hospitals become an important part of both the life in exile and Romanian political strategies.


1920The newly founded Society of Romanian Composers elects George Enescu as their first president.


1921February, 5th. Enescu's Piano Quintet no. 1 is performed in Lausanne with the composer himself playing the viola. December, 8th. The Romanian State Opera opens its gates in Bucharest with a first performance of Lohengrin, conducted by Enescu.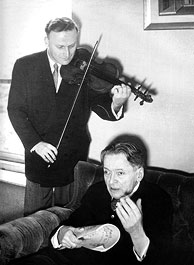 Enescu and Yehudi Menuhin
1927Enescu begins to teach Yehudi Menuhin. Starting from 1928 he is also giving violin classes at the École Normale de Musique in Paris as well as at Harvard University in Boston, USA.


1929May, 18th. Enescu is elected corresponding member of the Académie des Beaux-Arts de l'Institut de France.


1936March, 13th. First performance of Enescu's opera Oedipe at the Grand Opéra Paris, conducted by Philippe Gaubert. March, 31st. Enescu is conferred the title of a Commandeur de la Légion d'Honneur in France. At the Romanian Athenaeum he appears for the first time on stage with Dinu Lipatti, playing - among other - Lipatti's Sonata for violin and piano.


1939George Enescu marries Marie Cantacuzino-Rosetti in Bucharest.



1946Enescu leaves Romania for a tour through the USA. Although he never will utter a public word against his homeland, his departure is widely regarded as a protest against the newly installed communist regime.


1948Enescu starts delivering courses at the Mannes School of Music in New York.


1951Radio France broadcasts an interview series of the French journalist Bernard Gavoty featuring Enescu. The dialogues are later reviewed by Enescu an published by Gavoty in a book titled: The Souvenirs of George Enesco.


1952Master classes in violin interpretation in Bryanstone, USA and Sienna, Italy, that will continue until 1954.


1955May, 5th. Enescu dies during the early morning hours in his suite at the hotel Atala in Paris. His grave can be found at the Père Lachaise Cemetery in Paris.